Welcome to the Official Site for Presley Chasson. You may recognize Presley from one of her numerous print campaigns for companies such as H&M and Old Navy. Here you will find all the news and up to date information about this talented young actress. For Industry Professionals looking to learn more about Presley, please click on her name above for an overview of information.


NEWS & UPDATES
19 May 2015
Who's Little?
Presley has done multiple photoshoots with
Olesja Mueller
over the years, having a
fabulous
time at each one. She recently got to do a new shoot with her, and this time it was for the clothing line
Who's Little?
! Along with her new friend Willow, she had a great time out and about modeling multiple looks and and the images have been featured on their website and social media accounts. These images just scream
fun in the sun
as the girls posed for shots together, and who doesn't enjoy ice cream and cotton candy!


Right after the shoot Olesja took to Facebook to share several
previews
of images on her camera. There were so many
fantastic
images, and narrowing it down was quite hard for everyone involved making the final selections. In the previews you can spy Presley and Willow holding hands, laughing, and she even got to go for a ride on
The Mystery Machine
!
Thank-you
to Olesja and everyone at
Who's Little?
for an
awesome
shoot!



Posted by: Lisa
16 Apr 2015
Little Mass
One of Presley's favorite companies to work for is
Little Mass
! She has done several shoots for them over the last couple of years, and that includes their new
spring collection
! She got to do on location and in studio shots over the last few months for the line, and photos began surfacing last summer from a fun day with Harmony, Autumn, and friends. Additional images from that day including some fun individual shots have been released too now. Her in studio shoot she got to model multiple looks and loved the outfits with their fun pastel colors and accessories. Some of the photos have been put together for a
banner
showcasing the different looks for each collections spring line, and there's also a
sweet
photo of Presley and Autumn together!



Presley also modeled last year's
fall/winter line
, working with friends, and shooting a variety of different looks. The images frequently popped up on
Zulily
and she also had her image selected to head the banner for the day's sale!


Presley is very happy with getting to model the different collections for
Little Mass
, and she will also be seen for their upcoming
fall/winter line
! The company has released
two
collages featuring Presley's images thus far, and she has grown up so much in comparison to last year's shoot for this time of year. She totally rocks her cat print designs, and activewear looks, and make sure to keep an eye out as more photos continue to surface this year!


Presley has some
booking news
to share, she just filmed a
commercial
for
Barbie
!
Posted by: Lisa
08 Apr 2015
Colette Cugno
Presley always enjoys shooting with
Colette Cugno
, she makes their time together fun, and it is always
exciting
seeing the new photos when they are ready. Her latest shoot with Colette was last year, and the shots came out
fabulously
! Presley has grown up so much the last several months and you can really see it in the photos. She certainly is not the little baby we were all first introduced to a few years back. Pinks, purples, blues, Presley had some cute and fun outfits on for her shoot, and was full of
smiles
and poses. Make sure to check out the photos in the gallery!


Posted by: Lisa
03 Apr 2015
Babiekins Magazine
It's almost that time of year again, outdoor parties with ice cream, balloons, and kids laughter filling the neighborhood. Last year Presley got to enjoy all of this and more for a photoshoot for
Babiekins Magazine
with
Cinthya Nunez
, and had such a great time with new friends, and of course her big sister Harmony. Photos were featured in a print edition issue of the magazine, and now,
additional photos
have been added to the gallery! Presley sure loved her ice cream cone, and doing crafts with Harmony, the sunshine faces all came out really cute. Make sure to view the new photos in the gallery!
Posted by: Lisa
19 Mar 2015
Happy Birthday!
Yesterday was a big day for Presley and she was so happy that the time had finally come where she could say it is her birthday!
Happy Birthday Presley
! I hope you had an
amazing
day celebrating with your family and friends as everyone helped make your day special. Cake, presents, traditions, there was so much to enjoy, and now that you're five years old you can say you're a whole hand, how
awesome
is that!
Happy Birthday
!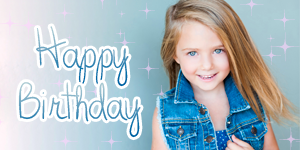 (Unfortunately with a little technical issues behind the scenes yesterday Presley's birthday post did not get saved yesterday and was unable to go back up until today. But that means two days of birthday wishes for the big five years old!)
Posted by: Lisa
19 Feb 2015
Jelly the Pug
With the freezing cold temperatures outside it's time to bundle up in style with
Jelly the Pug
! Presley always enjoys shooting for them, she loves their designs, and any chance to get to work with
Natalie Warr
means she's in for a fun day. Images from this shoot have been popping up on
Zulily
, and how adorable does she look modeling this collection!


Posted by: Lisa
<< Previous Next >>