Welcome to the Official Site for Presley Chasson. You may recognize Presley from one of her numerous print campaigns for companies such as H&M and Old Navy. Here you will find all the news and up to date information about this talented young actress. For Industry Professionals looking to learn more about Presley, please click on her name above for an overview of information.


NEWS & UPDATES
19 Mar 2015
Happy Birthday!
Yesterday was a big day for Presley and she was so happy that the time had finally come where she could say it is her birthday!
Happy Birthday Presley
! I hope you had an
amazing
day celebrating with your family and friends as everyone helped make your day special. Cake, presents, traditions, there was so much to enjoy, and now that you're five years old you can say you're a whole hand, how
awesome
is that!
Happy Birthday
!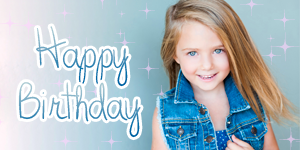 (Unfortunately with a little technical issues behind the scenes yesterday Presley's birthday post did not get saved yesterday and was unable to go back up until today. But that means two days of birthday wishes for the big five years old!)
Posted by: Lisa
19 Feb 2015
Jelly the Pug
With the freezing cold temperatures outside it's time to bundle up in style with
Jelly the Pug
! Presley always enjoys shooting for them, she loves their designs, and any chance to get to work with
Natalie Warr
means she's in for a fun day. Images from this shoot have been popping up on
Zulily
, and how adorable does she look modeling this collection!


Posted by: Lisa
15 Jan 2015
Jelly the Pug
Presley loves working
Jelly the Pug
and last year got to shoot for their
holiday collection
! She got to model a very fun pink dress covered in a Christmas ornament pattern, work with her friends and she always loves shooting with
Natalie Warr
. Her images were featured on social media for the company and also on
Zulily
where she was even chosen to have her image featured in the sale banner! With a
thank-you
to Natalie the shoot images can be found in the gallery, and she really hopes to get to shoot for them more this year!


Posted by: Lisa
25 Dec 2014
Happy Holidays!
Presley loves the holidays, such a
wonderful
time of year to spend with family, and can't forget the presents. She has been having a great holiday season with her family and would like to take a moment to wish everyone, no matter what traditions you celebrate this time of year, a
Happy Holidays
! May the holiday season bring you all lots of love and happiness, and all the best to everyone in 2015!
Posted by: Lisa
13 Nov 2014
Frankie & Sue
Presley loves working for
Frankie & Sue
! Ever since she walked the runway for them at
LA Style Fashion Week
last year she's fallen in love with the clothes and the team that makes up this wonderful company. She's since gone on to shoot both their
spring
and
fall
collections for this year, and images have now surfaced for both! She has been seen on the company
website
, their
Facebook page
and other social media accounts as her photos have been used to help promote new collections and sales. The spring shoot was a lot of fun working outdoors, all the bright colors and she got to work with Harmony which is always exciting! For the fall shoot it was an in studio set up, where Presley made lots of new friends doing some great group images.
Thank-you
to the
Frankie & Sue
team for two
fantastic
photoshoots!


Posted by: Lisa
20 Oct 2014
LA Style Fashion Week
Last fall Presley walked the runway at
LA Style Fashion Week
! She was so happy to get to do it again having walked in their previous event, and the night was just as fun and magical as months before. She was walking for the line
Dollcake Oh-So-Girly
, who makes the most adorable dresses and other outfits for girls. Presley modeled
two
looks on the runway, walking with her new friends as the camera lights were flashing from the press. Images from the fun night have just been added to the gallery and you can watch a video of Presley during the show in the
media section
!
Thank-you
to the
Dollcake Oh-So-Girly
team and everyone at
LA Style Fashion Week
for an
amazing
show!

Presley has some
booking news
to share! She recently shot for
Little Skye Boutique
with Harmony, did a new shoot for
Jelly the Pug
, and will be seen on the
product packaging
for Halloween costumes in 2015 for
California Costumes
!
Posted by: Lisa
<< Previous Next >>