Welcome to the Official Site for Presley Chasson. You may recognize Presley from one of her numerous print campaigns for companies such as H&M and Old Navy. Here you will find all the news and up to date information about this talented young actress. For Industry Professionals looking to learn more about Presley, please click on her name above for an overview of information.


NEWS & UPDATES
25 Feb 2014
Jamie Moore Photogrpahy
Valentine's Day
is such a fun holiday when you are a child. Candy, Valentine's cards, parties at school and more. While we should tell our loved ones we love them everyday, it's a nice day to have a reminder and do something
special
for those we love. It also makes for a fun theme for photoshoots! Presley did a shoot with the
wonderful
Jamie Moore
doing several different looks and working alongside a friend. Presley's solo shots came out
fabulously
, and how
adorable
does she and the little boy look holding hands! Awwwww! One of her favorite parts was shooting with the
Kissing Booth
prop and Jamie captured some fun shots of Presley standing in front of it, including some with her friend, they are so cute together.
Thank-you
Jamie for such a
fantastic
shoot and the great new Presley images!

Presley has some
booking news
to share! She just filmed the show
Newsreaders
, and she and Harmony shot for
Babiekins Magazine
print issue four!
Posted by: Lisa
02 Feb 2014
Two Seagulls
Last year Presley did a fun holiday themed shoot for
Two Seagulls
. Working with the
wonderful
Mindy Tanimoto
it was a great on location shoot complete with trees and Christmas props. Presley enjoyed getting to work with new friends, her big sister Harmony, and she loved the dress she got to model for the camera. Her images appeared in the company's
online store
with many fun solo shots and a group shot was also shared by the photographer to help celebrate the holiday season. Photos have just been added to the gallery, and
thank-you
Mindy for a fun shoot!



Posted by: Lisa
22 Jan 2014
Isabella Couture
Last year Presley did a shoot with the
wonderful
Nancy Vuu
for
Isabella Couture
. It was a great time working with new friends, the weather was gorgeous for the shoot and Presley loved the outfit she got to wear. She had a lot of fun doing group shots and also enjoyed taking some solo shots. The images came out
fantastically
and
thank-you
to everyone on set for a great time!


Presley has booked her first job of 2014! She recently booked a shoot for
Fore Axel and Hudson
, way to go Presley!
Posted by: Lisa
12 Jan 2014
Twirls and Twigs
Presley was so happy to get to do a
second
shoot for
Twirls and Twigs
last year. She shot for some new
fall/winter collection
items and images have surfaced on the company
Facebook page
! With its bright colors and fun designs she loved the outfit she got to wear. The pictures came out
fantastic
, Presley loved getting her photos taken, the photographer was so friendly, and you can see how much fun the girls were having throughout the shoot.

Behind the scenes Presley had a ton of fun too. She made lots of new friends and she and another little girl at the shoot were practically
inseparable
. They were playing together between takes and stopped to pose together for some behind the scenes images in their matching outfits.
Thank-you
to everyone at
Twirls and Twigs
for another
exciting
shoot!



Posted by: Lisa
05 Jan 2014
Skylar Luna
2014 is now here and while it's time to celebrate the arrival of a new year, there's still plenty of fun from 2013 that we have yet to enjoy! Last year Presley did a shoot for
Skylar Luna
. Wearing some of the most comfortable pajamas ever she had a great time getting in the spirit of the holidays and shooting with the
wonderful
Gretchen Easton
. The images have surfaced on both the homepage of the company
website
and their
Facebook page
! They all came out so sweet, especially the shot of Presley by the fireplace and playing with her friend.


Behind the scenes there was a lot of fun to be had at the shoot. Presley loved everyone she got to work with, and especially getting to make new friends. It's always a great time when there's other kids to play with both on and off set. Some
behind the scenes
images have also been added to the gallery and
thank-you
Gretchen and
Skylar Luna
for a
fantastic
shoot!
Exciting news
! Presley's younger sister Autumn will be on tomorrow night's episode of
Castle
at
10/9c
on
ABC
! We can't give too many details away about her part, but it's going to be an episode that leaves you on the edge of your seats and get the Kleenex ready!
Posted by: Lisa
25 Dec 2013
Happy Holidays!
Presley loves this time of year, time with family, presents, and lots of traditions to take part in. She's been having a great time celebrating with her family, and hopes that all of you have been having a
wonderful
holiday season as well. To all of you celebrating Christmas today,
Merry Christmas
, and may everyone have a 2014 full of opportunity and excitement!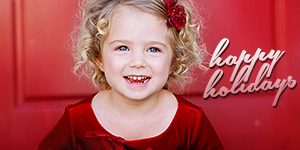 (Thanks Sarah for the banner!)
Posted by: Lisa
<< Previous Next >>